Wed, 02/22/2012 - 14:07
Media Crackdown
If anybody had any doubts that the ruling regime's steamroller is methodically "paving the motorway" to the 1st round victory of it's champion in the upcoming elections, these doubts should be disappearing quickly.
The Editor in Chief of Echo of Moskvy radio, Alexei Venediktov announced on his blog that the broadcaster's majority shareholder, Gazprom Media, has asked for the dissolution of its' board of Directors. Ekho Moskvy is known for its freedom of expression and regularly interviews opposition politicians with limited access to state-run television.

The radio station is the flagship of the free Russian broadcast media. Its' daily broadcasts reach up to 900, 000 people.
Vladimir Putin has recently accused the radio station of "slinging mud from morning to evening" at him and of serving U.S. foreign-policy interests.
The majority of commentators and political parties representatives are in no doubt that the government is turning the screws on the free media just weeks ahead of the elections.
Vladimir Varfolomeev, the Deputy Editor in Chief of Echo Moskvi, tells France 24 about the increasing pressure the station is facing since the controversial legislative elections… (SKYPE/TEL itw)
Listen here: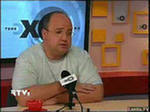 Tags for all blogs :
Comments or opinions expressed on this blog are those of the individual contributors only, and do not necessarily represent the views of FRANCE 24. The content on this blog is provided on an "as-is" basis. FRANCE 24 is not liable for any damages whatsoever arising out of the content or use of this blog.